Reflections on the River Haven Spring Pilgrimage
Lord Theophrastus von Oberstockstall
On Saturday, 1st September 2018, River Haven held its first Spring pilgrimage. It was a walk of approximately 24 kilometres using the Bicentennial National trail between Thornton, Mount Mort, Greys Plain, and Rosevale. The pathway traversed the Little Liverpool Range and was mostly a mixture of quiet, gravel or bitumen country roads passing between open forest ridges and picturesque, pastoral grazing creek flats. As we walked we enjoyed long conversations ranging over as broad a topic selection as the valley we crossed, and the delights of a country stroll.
Travelling at the slowest walkers' pace, estimated at 3.5km/hr the pilgrimage took between seven and eight hours (including breaks). Commencing at 8 am, a luncheon stop was enjoyed at the 15 km mark after having negotiated Greys Plain. The pathway then used Mount Walker W road, and Rosevale road to arrive at St Paul's Lutheran Church ground for a late afternoon tea. A light luncheon / afternoon tea was generously arranged by four members that did not walk. This was a delightful offer, and greatly appreciated by the walkers. As the party was exhausted and considered the event enjoyable to conclude following the afternoon tea, dinner options were not taken at a nearby pub.
Members engaged in the pilgrimage for whatever reason they saw fit, as this was not necessarily a religious event. Members attire ranged over numerous periods and cultures that they felt appropriate for the occasion. All made an honest attempt to dress in a historical period and culture appropriate to the ages of interest in the SCA. Most members chose simple garb to match the occasion with preference to earlier periods. Appropriate footwear for a pilgrimage over gravel and bitumen roads, and uneven surfaces, witnessed everybody using modern shoes and hiking boots. Whilst there was discussion of using period accurate footwear, nobody was brave enough to attempt it.
Members carried appropriate water and sustenance for the pilgrimage. A light meal was brought by each member. As we sat on a fallen tree truck in the shade for our luncheon it was a delight to reach into our pilgrim's bags and retrieve cloth wrapped bread and harden cheeses that had become soft during the walk. Sun protection was essential – with all using sunscreen and appropriate headwear. The use of light linen scarfs were welcome reprieve for the back of the neck and tucked under the hat to hold in place.
Carpooling was used to arrive at the starting place, Thornton, (Google Maps:190 Mulgowie Road, Thornton, Qld) and Return Carriage to Thornton from Rosevale (Google Maps: 572 Rosevale Road, Rosevale, Qld) after the pilgrimage. Mobile phone reception was intermittent, however on ridgetops signals was strongest. All pathways were able to be negotiated by 4WD vehicles in the case of emergencies, though none arose.
Whilst potential risks, such as wildlife (snakes, ticks), domestic animals (dogs, horses), dehydration, trip/slip hazards – unlevel ground, and roadside debris, no incidents requiring medical attention was required. Dogs that were encountered were either friendly or well fenced. One carpet snake was encountered literally guarding a gateway, and easily scared off with our pilgrimage's walking sticks. Though this is an all-weather event, as we were going to do it no matter what weather was on offer, no threatening weather events were encountered. In fact, the day was a perfect early spring day of a most pleasant temperature and breezes. A dust storm impeded some of the anticipated mountain venues, which was a disappointment.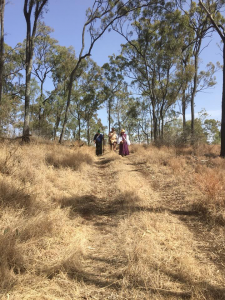 Following the event, we reflected on the day and decided that the event could be improved with several things:
Carpooling cost (fuel) needs to be considered and non-intrusively suggested to participants.
The 24 km length of the walk discouraged some participants, thus whilst the length was intended to make it a meaningful challenge, the next event will have two half options, so participants may partake in the morning section or afternoon section or both.
Rural toilet access was a pre-event concern. Adequate solutions for metropolitan members was not achieved. All available toilets will need to be identified, as public toilets were unexpectedly found at Warrell View (to the relief of travellers).
This was a free event. Thus, afternoon tea was reliant on the generosity of members, which was how it was initiated. Future events should not expect or rely on this generosity, though may accept it if offered again.
The pathway was initially intended to conclude at a rural pub. This was a disappointment when it was discovered that the Rosevale Retreatwas closed. Future pathways may consider well-established pubs.
It was generally thought that the length (24 km) and choice of seasonal timing was excellent. However, longer distance pilgrimages would likely not be encouraged. Summer and Winter seasonal walks were discussed, however seasonal temperatures are likely to be discouraging. It was suggested that the Summer walk could be held as a full moon night affair.
A support car was not initially considered. A flu-recovering member volunteered to perform this duty. This enabled water to be carried, and an emergency car to be available (which was used to ferry a walker back to their car to retrieve it whilst they had a rest from walking).  Like the afternoon tea, this service was at the generosity of the member. Future events should not expect or rely on this generosity, though may accept it if offered again.
On a final note, readers considering holding a pilgrimage in their Baronies and Cantons may appreciate what we used to consider in selection a pathway.
Firstly, we used The Bicentennial National Trial (https://www.bicentennialnationaltrail.com.au). It is a route from Cooktown, Far North Queensland, to Melbourne, Victoria. This pathway unites the Baronies and Cantons on the Eastern Seaboard of this grand continent and Kingdom. It would be a good starting point to research this pathway in your area.
Next, what we looked for was quite country roads, so that traffic was minimal. Over the course of our pilgrimage of seven hours only about a dozen cars passed us. Unexpectedly of these vehicles, three stopped to ask us what we were doing. And once we explained that we were historical reenactors performing a pilgrimage, the drivers curiosity was rewarded. We suspected that the pictorial clues of simple garb, walking sticks, and pilgrim bags aided the recognition.
Of the roads to choose, we made a preference for dirt roads, as they visually aided the feel of our period pilgrimage. The sections of dirty road that wound through treed hills were delightful.
Next, a preference was given to traversing a low range so that stunning country views would reward and encourage the pilgrims, but importantly thematically we left one valley and entered another. This transition in landscape aided the feel that our pilgrimage had a change. Certainly, as we neared the end of our walk, looking back to a distant range that was the morning section of the walk on the horizon was remarkable.
And lastly, ending the pilgrimage with an afternoon tea / late luncheon was important. This small catering event was an occasion of its own evolution, as members that couldn't walk took the arrangement of the reception. As the walkers arrived it was obvious that the afternoon tea party was already been a joy for the people there.
Our next pilgrimage is in March 2019, an autumnal event.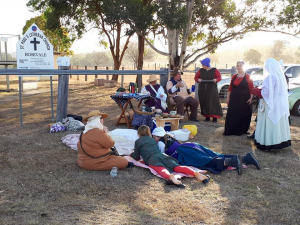 Photograph from MD, LM, RD, and AK.